New addition time. Mondays, Wednesdays and Fridays I'll put up how to do one of the more complex achivements in Halo Reach. Today, I'll start off with ones that's easy to get, provided you know how and when.
Minor Spoilers
To start off, load up Pillar of Autumn, The last mission and right at the very start you are greeted by the edge of a rather steep cliff.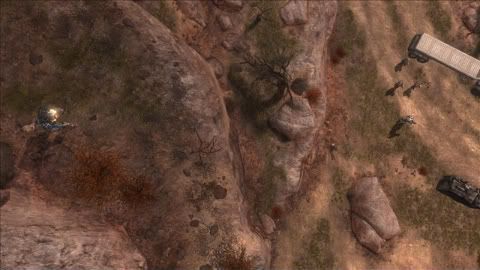 As you run off the cliff directly below you there will be 1 Elite and 3 Grunts. The Grunts are worthless, go ahead and ignore them.
The path the Elite usually take is one that takes him towards the burnt out vehical. Before you run and jump you have time for a quick peek over the edge to check where he is and to adjust your run angle.
Now you know the easy part, this is where it gets tricky. You need to run, far enough to be able to run and jump and get close to him. When you've gotten close enough horizontaly, you MUST stop the run ability, if it's on for too long you won't have the vertical hight, if you assasinate him it won't count. Before I knew that I spent ages attempting this and failing.
So yeah, one of the easiest achivements to get, provided you know all the hidden tricks. If you're still stuck, check out Rooster Teeths video guide
for extra help. Well I hope that's helped someone out. Untill tomorrow, Have fun.
P.S. Can't be arsed with that get 10 Sprees.